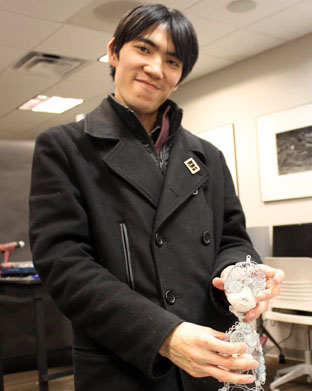 Yu Ueda
Digital Animation and Stop Motion
yueda7@gmail.com


Yu Ueda is a Japanese mixed-media animator. As the lead 2D tech artist at Rooster Teeth Productions, Yu has been developing several character rigging technique for RT's web series, such as Camp Camp and Nomad of Nowhere. Yu's long-term goal is to design an animation pipeline that cost-effectively utilizes modern technologies without compromising the warmth of traditional animation.
Yu's co-directed short film Starlight won Atlanta Film Festival's Oscar-Eligible Animated Shorts category in 2015. Starlight has also been screened internationally at various festivals including Pictoplasma Festival 2015 in Berlin.
Yu has been actively developing custom shelf scripts for Toon Boom Harmony. His scripts has been shared with the user community through Toon Boom's official Discord channel. In the mid 2019, Toon Boom's official blog posted an interview with Yu about his scripts.
In Yu's forthcoming short film The Isle of Decoys, he replaces labor-intensive frame-by-frame animation technique with motion tracking and 2D puppet animation that emulates the look of traditional animation. Equirectangular (360-degree-panorama) imaging techniques are also used to generate dozens of background assets from a single image.
Yu is also co-directing the stop motion film Princess Cottongrass for which he adapts paper folding and pop-up book mechanisms to retell a Swedish folktale while using a computerized paper cutter for efficiency in fabrication. Princess Cottongrass has received a grant from Center for Puppetry Art in Atlanta and it will premiere at CPA's Experimental Puppetry Theater show (XPT) on May 2016.